Tortilla soup is one of the first dishes that I learned to cook and which, over the years, I have improved according to my taste.
It has it all, starting with a spectacular tomato broth, crispy tortillas, creamy avocado, soft panela cheese that slightly melts in the broth, guajillo chili that gives it a special touch, lime juice to balance the flavors and sour cream that wow… make me crave for some just by describing it.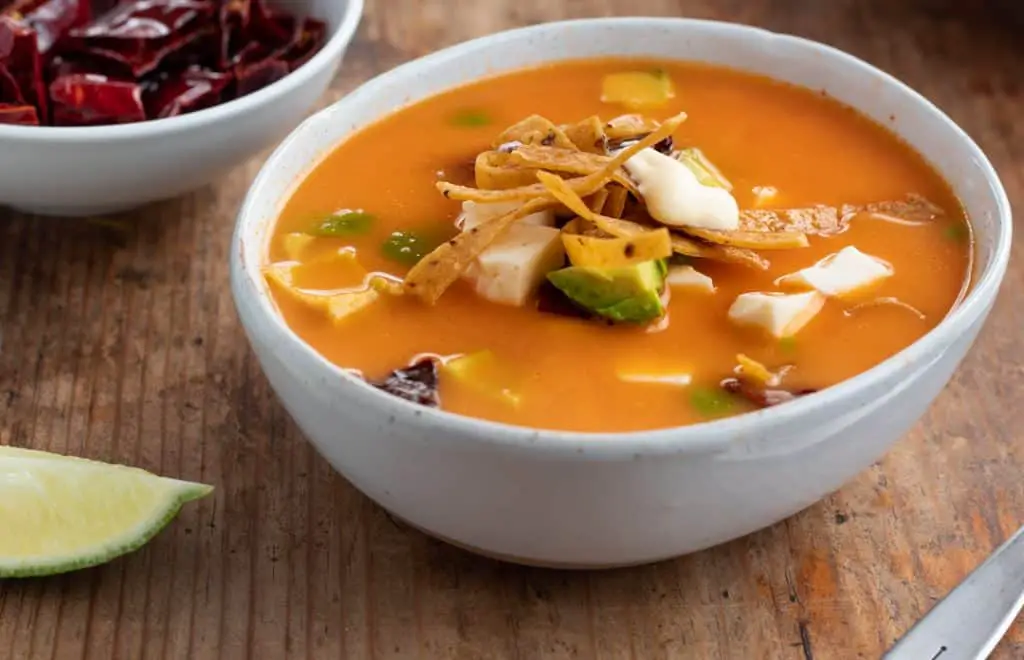 To prepare it there are several steps to follow, the first and most important one is to make the broth, which concentrates all the flavor. Epazote is one of the essential ingredients in this soup, but since its flavor is strong and I don't like it to predominate over the rest, I usually add it at the end for a few minutes just to give it a little flavor, like brewing tea.
I personally love the crunchy tortilla with each bite so, I prefer to add the fried tortillas to the broth as I eat so that they maintain their crispy and perfect texture.
Print
Tortilla soup
Author: Citlalli Barberis Erenberg
Prep Time:

15

Cook Time:

30

Total Time:

45 minutes

Yield:

4-6

Category:

soup

Method:

cook

Cuisine:

Mexican

Diet:

Vegetarian
1 onion

1 clove garlic

7 ripe tomatoes or a can of canned tomatoes

1 sprig of epazote

1 to 2 liters of water or vegetable broth

1 kg tortillas

1 avocado

450 g panela cheese

Guajillo chilies to taste

Sour cream to taste

Lime juice to taste

Salt to taste
Instructions
1.     In a saucepan sauté the onion cut into pieces until soft and almost transparent, add the garlic and shortly after, incorporate the chopped tomatoes. This is the first step for the soup and one of the most important, you have to pour your love into it and respect its time. After about 15 minutes, put everything in the blender and process thoroughly.
2.     Put the mixture through a strainer to separate the seeds and tomato skins, as well as other pieces that shouldn't be in the soup. Then pour the liquid back into the pot and add the vegetable broth until you obtain a perfect texture, we want it to be a soup but with some body to it.
3.     Let it boil for about 5 minutes and add a sprig of epazote, in this step you have to taste the broth until you feel that the flavor is right, making sure that the epazote doesn't predominate over the other flavors. Once you're pleased with the flavor, remove the epazote sprig from the broth. Finally, add salt as needed.
4.     Cut the tortillas into strips and fry them in a skillet until they are very crisp, transfer them on to a paper towel to remove any excess oil. Remove skillet from the stove and add the sliced chilies for a few seconds to fry in residual heat. Be careful, since this step must be completed extremely fast, otherwise, the chilies will burn.
5.     Cut small squares of panela cheese and avocado and place in each soup plate, add a dollop of sour cream, a few drops of lime juice, some slices of chili to taste, followed by the broth. I suggest adding the tortillas while you're eating the soup, so as not to lose their crunchy texture.
Keywords: mexican soup, tortilla soup
Tortilla soup variations
Some people grind some guajillo chili and tortilla together with the broth, I personally prefer the broth to be lighter, but this is an option, and it gives it a lot more texture. It's also delicious this way.
Substitutions
Onion: shallot or red onion
Garlic: garlic powder
Tomatoes: canned tomatoes