Eggplant schnitzel is a must at home. It's that type of dish that gets me out of a tight spot when there's no time to cook, in just 15 minutes lunch is served. In addition, it's a spectacular recipe for meatless Mondays.
This recipe was conceived as an alternative to breaded veal cutlets by using eggplant instead. The first step is to prepare the eggplant in order to reduce its bitterness. To do this, you simply have to cut it into approximately 1.5 cm wide slices and soak them in salted water until the liquid turns slightly brown (more or less 30 minutes), then you just have to strain and rinse them.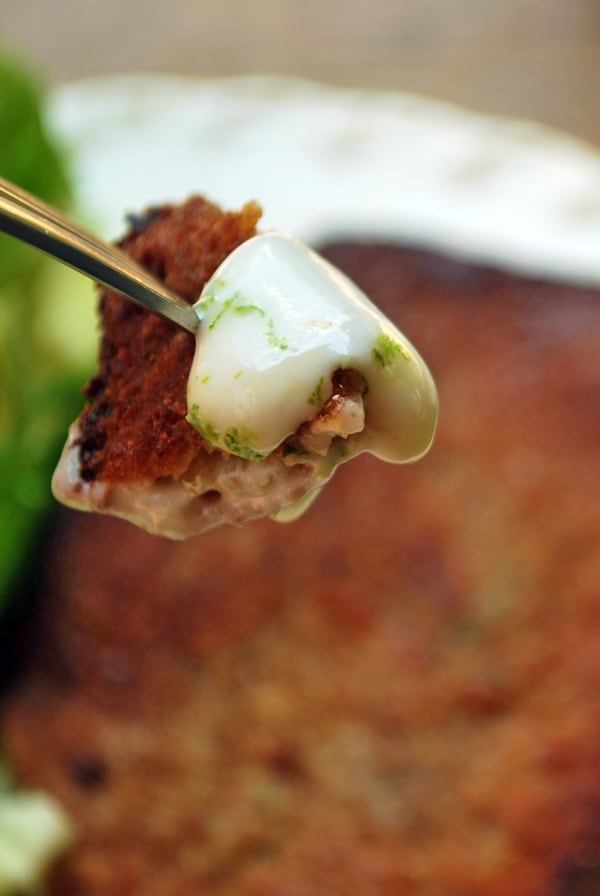 Did you make this recipe? Share your thoughts in the comments section, I love reading them.
Print
EGGPLANT SCHNITZEL
Author: Citlalli Barberis Erenberg
Prep Time:

30

Cook Time:

10

Total Time:

40 minutes

Yield:

4

1

x
Category:

Main Course

Method:

–

Cuisine:

Vegetarian

Diet:

Vegetarian
1

clove garlic, finely chopped

30 g

parsley, finely chopped

2

eggs

All-purpose flour (as necessary)

Breadcrumbs (as necessary)

1

large eggplant

2 tablespoons

coarse salt

Salt and pepper to taste

1 cup

plain yogurt

1

lime (plus its zest)

1/4 cup

olive oil
Instructions
1.     In a large container dissolve the two tablespoons of coarse salt in enough water (at least 2 liters).
2.     Cut the eggplant into approximately 1.5 cm wide slices and soak them in the salty water for 30 minutes.
3.     Finely chop the garlic and parsley and mix them with the whisked eggs and a little salt.
4.     For a great crumb coating first you have to dry the eggplant slices and dredge them in flour, then dip them in the egg mixture and finally press them on the breadcrumbs. If you follow this order of ingredients the result will be perfect and crunchy.
5.     Fry the breaded slices in hot oil. It's important that you make sure the oil is very hot, otherwise the eggplant will absorb it and the result will be a greasy mess. If you don't want to fry them you can bake them, this alternative is very tasty.
6.     In a bowl, mix the plain yogurt, lime zest, juice of half a lime, and olive oil. Season to taste.
7.     Serve the eggplant schnitzel with the yogurt on the side.
Keywords: eggplant breaded, EGGPLANT SCHNITZEL
Substitutions
Garlic clove: garlic powder or shallot
Parsley: coriander, rosemary, oregano or thyme
All-purpose flour: whole wheat flour, coconut flour, oatmeal flour or almond flour
Breadcrumbs: ground oats or polenta
Eggplant: zucchini