These baked potatoes are spectacular, soft on the inside, crispy on the outside, and full of flavor, making them the ideal side dish to any meal.
Steps to make baked potatoes
For this recipe you need to have delicious potatoes, I like to use chambray potatoes since their size makes them ideal for each one to become a spectacular bite, but you can also use large white potatoes, it's just a matter of taste.
In a saucepan place the potatoes, water and salt, and heat. Boil in water until you're able to poke the potatoes with a knife and you notice that they are soft but still have a firm structure (they shouldn't be soft as for mashing).
Drain the water and place the potatoes on a chopping board, and with the help of a knife or a small plate, lightly crush them, the idea is that they open up without falling apart.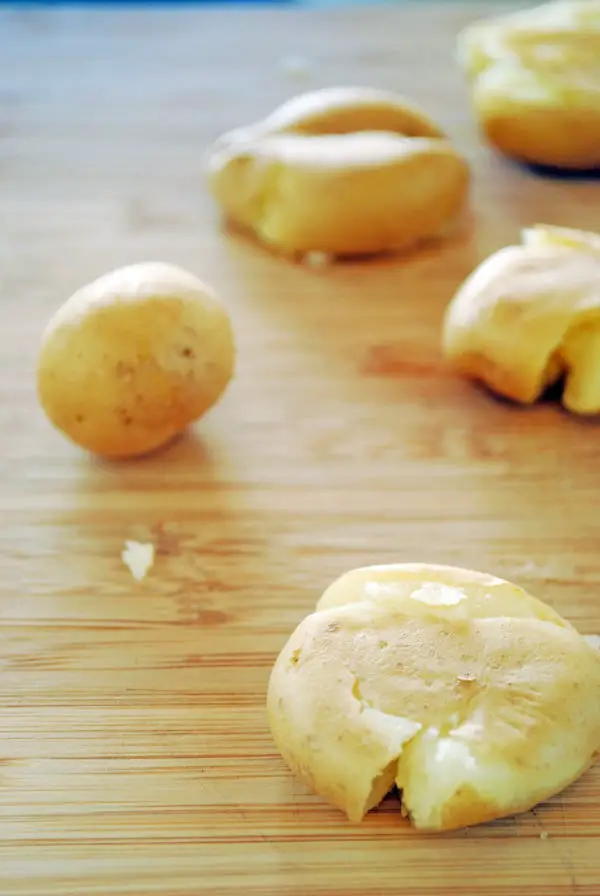 Drizzle enough avocado oil over a baking tray and then place the potatoes one next to the other without overlapping; each potato needs enough space on the tray to brown well. Sprinkle with fresh rosemary leaves, coarse salt and freshly ground black pepper.
Bake for 30 to 40 minutes or until crispy.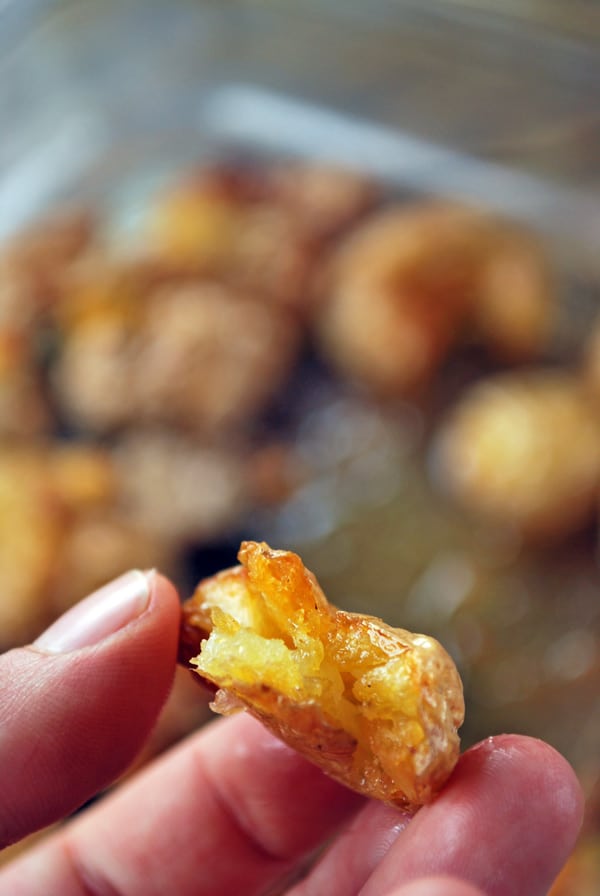 Print
THE BEST BAKED POTATOES
Author: Citlalli Barberis Erenberg
Prep Time:

20

Cook Time:

40

Total Time:

1 hour

Yield:

4

Category:

Side

Method:

Bake

Cuisine:

Classic

Diet:

Vegetarian
500 g chambray potatoes

2 sprigs fresh rosemary

Salt and pepper to taste

Avocado oil (as necessary)
Instructions
1.     Boil the chambray potatoes until they are slightly soft but still firm.
2.     With the help of a knife or small plate, press the potatoes one by one without mashing them.
3.     Place the potatoes on a baking tray, drizzle with enough avocado oil, add the rosemary, salt, and pepper.
4.     Bake at 280 ºC until golden brown, turning so that both sides are crisp.
Keywords: easy baked potatoes, crispy
Substitutions
Chambray potatoes: white potatoes or any available variety
Fresh rosemary: fresh thyme or oregano